Cooking
Pareve Triple Chocolate Mousse
Published on Monday August 30th, 2021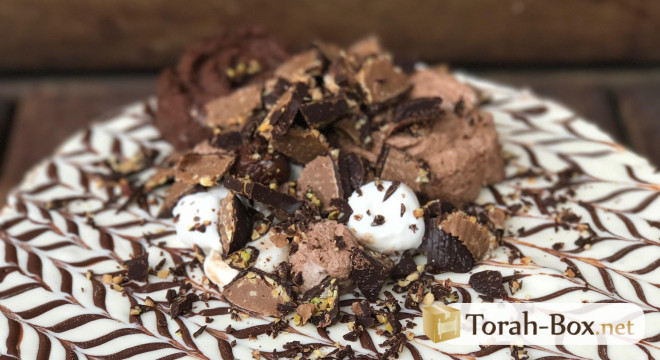 Pareve Triple Chocolate Mousse
For 10-14 people
Preparation time: 30 minutes
Freezing time: 1 hour minimum
Difficulty: easy
Ingredients
4 cartons of Nutriwhip (or other pareve whipping cream)
200g dark of baking chocolate
5 tablespoons of pareve hazelnut chocolate spread
1 bag of pareve white chocolate chips (approx. 150g)
Preparation
Real food lovers will run to test this recipe for Shabbat! It is easy to make and can be stored in the freezer for several weeks, so don't hesitate to make it now for the holidays!
First whip the 5 cartons of Nutriwhip. Now divide the cream between three bowls.
Melt the dark chocolate in a bain-marie, set aside a few tablespoons to decorate the mousse at the end, and stir the rest of the melted chocolate into the first bowl of cream. Pour this chocolate mousse in a mold already covered with parchment paper.
In the second bowl, add the hazelnut spread and blend until it becomes smooth. Pour it over the chocolate mousse to make a second layer. Place in the freezer while you prepare the third mousse.
Melt the white chocolate in a bain-marie. Be careful not to overheat the white chocolate which tends to dry if it burns and becomes difficult to add to the cream. Once the white chocolate is melted and smooth, mix it with the third bowl of whipped cream. Take the mold out of the freezer and pour the white chocolate mixture over the second layer. While the cream is still soft, decorate with the lukewarm melted dark chocolate. You can also some chocolate or make shavings to decorate the top of the cake. This cake can be stored in the freezer for a few weeks. Take it out 30 to 45 minutes ahead of time, it will be easier to serve and its texture will be creamier.
Esther SITBON - © Torah-Box
Scroll to top