Cooking
Summer Salad
Published on Thursday September 23th, 2021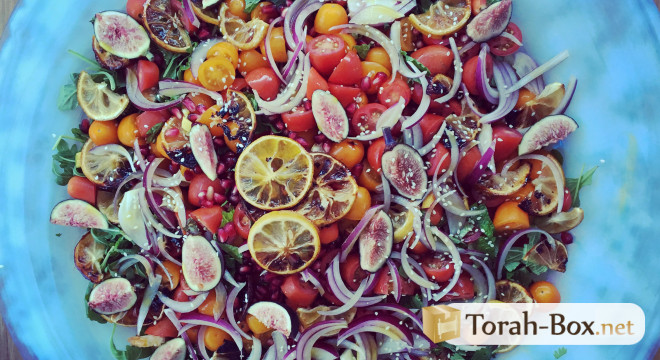 For 8 people
Prep time: 20 minutes
Difficulty: easy
Ingredients
200g baby spinach, checked
1 bunch sage
1 ½ organic lemon, washed thoroughly and cut into very thin slices
1 punnet red cherry tomatoes
1 punnet yellow cherry tomatoes
1 large red onion, thinly sliced
Seeds of ½ pomegranate
4-5 figs
½ bunch fresh mint
½ bunch fresh coriander
¼ glass olive oil
4 tablespoons raw acacia honey
4 tablespoons balsamic vinegar
1 tablespoon pomegranate molasses
1 handful roasted sesame seeds
Preparation
One of the important steps in this recipe is to slice the lemon whole with the peel, as thin as paper. Lay the slices on an oven tray lined with parchment paper. With a fork, drip honey on the slices and bake at 180°C until caramelized and almost crispy… remove the tray from the oven and allow to cool down.
Meanwhile, clean and check all the herbs and chop roughly. In a bowl, mix the spinach and herbs and layer them at the bottom of your salad dish. Add the red and yellow cherry tomatoes, the red onion, the quartered and checked figs, the pomegranate seeds, and sprinkle with pan-roasted sesame seeds. Lay the caramelized lemon slices on top.
For the dressing, whisk together in a bowl the balsamic vinegar, the pinch of salt and the pepper, the pomegranate syrup, the tablespoon acacia honey, and the olive oil. Pour over the salad just before serving!
Bon appétit.
Esther SITBON - © Torah-Box
Scroll to top