Cooking
Recipe: Porcini Risotto
Published on Thursday September 16th, 2021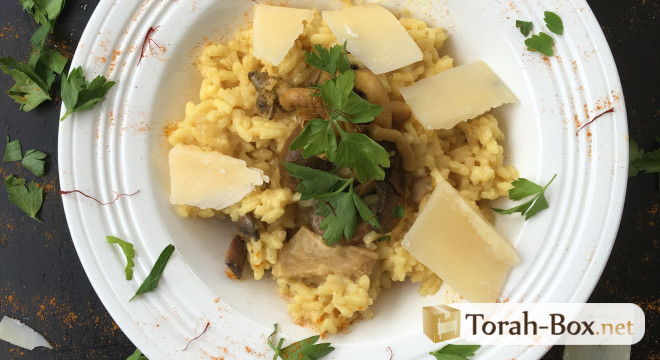 For 8 people
Prep time: 45 minutes
Difficulty: easy
Ingredients
4 glasses Arborio (or short-grain) checked rice
1 sachet checked dried porcini (approx. 1,26 cup),
4 sachets Spigol spice mix or 12 ground saffron pistils
2 tablespoons olive oil
2 shallots
1 garlic clove, minced
10 glasses water
1 glass dry white wine
½ glass grated parmesan
3 tablespoons unsalted butter
A few parmesan shavings
A few parsley leaves to decorate
Salt and pepper
Preparation
The night before, soak the porcini mushrooms in water, cover and refrigerate.
The next day, take the porcini mushrooms out of the water, which should be nicely dark and infused with the flavor of the mushrooms.
Transfer the liquid to a sauce pan, cover and cook over medium heat. Meanwhile, mince the shallots and crush the garlic. In a large pot, fry the shallots in the olive oil.
Sweat the onions 3 minutes on medium heat before adding the garlic and Spigol spice mix.
Stir occasionally to keep the mixture from sticking to the pan. Add the porcini and brown 2-3 minutes.
Take out ¼ of the mushrooms and set aside on a plate to dd at the end.
Turn down the heat to low, and add the rice. With a wooden spoon, stir to coat the rice. Keep on low heat for 2 minutes while stirring and add the wine and salt.
Still stirring with the wooden spoon, add the warm porcini broth little by little.
Bring up the heat to medium and keep stirring while waiting for each ladle of broth to be absorbed by the rice before adding more. Repeat until the rice is cooked. Short-grain rice usually needs half an hour to cook.
I learned the next step from an Italian chef, and it is essentially THE step to remember to make this risotto really creamy and unforgettable: remove from the heat, add butter and keep stirring until complete absorption. Then add the grated parmesan.
It is now time to savor this delicious risotto by serving a generous ladleful on each plate, with a few porcini mushrooms, parmesan shavings and parsley leaves… Bon appétit!
Esther SITBON
Scroll to top