Cooking
Salmon and Spinach Puff Pastry
Published on Thursday August 23th, 2018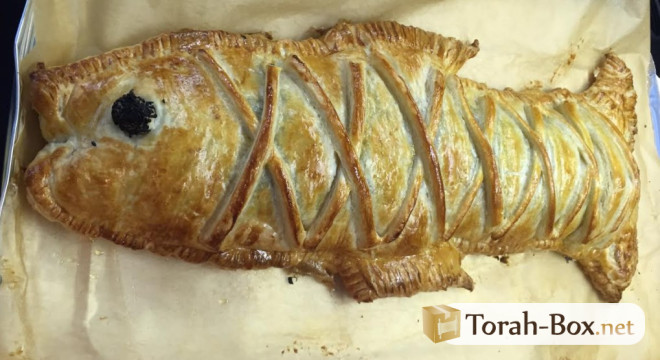 For 10 people
Preparation time: 10 minutes
Cooking time: 30 minutes
Difficult: average
Ingredients
500g / 17 oz frozen spinach – already checked
1 big onion, minced
3 garlic cloves, crushed and minced
1 teaspoon ground nutmeg
2 teaspoons dry thyme
2 tablespoons olive oil
1 big salmon fillet without skin
1 package frozen parve puff pastry
1 egg yolk for the glaze
Preparation
This recipe is terrific for festive buffets or Shabbat lunches for example. It is prepared in two steps:
First, in a frying pan, heat the oil and fry the onion on medium heat for 5 minutes. Once the onion is well done, add the nutmeg, thyme, garlic and spinach. Cook for 10-15 minutes and stir to keep the spinach from sticking to the bottom of the pan. The spinach needs to be dry so do not cover the pan. When the vegetables are well cooked and do not give up any more liquid, remove them from the heat and place them in a strainer.
Then, roll out the puff pastry using a rolling pin, and place the salmon filet on one half. Then spoon the spinach on top of the salmon and layer evenly. Cover the salmon and spinach with another sheet of pastry. Give it the shape of a fish and use the pastry offcuts to get creative.
At this point, you can either bake your fish immediately, or freeze it if you want to save it for a holiday or a different Shabbat.
Preheat the oven at 180°C / 356F, brush the pastry fish with the egg yolk, and bake for 30 minutes.
Esther SITBON
Scroll to top